The Institute for Economic Equity
The Institute for Economic Equity (IEE, or the Institute) promotes a more equitable economy for households and communities in the Eighth Federal Reserve District and beyond. It works to support an economy that works for all, regardless of race or ethnicity, gender or where they live. Launched in 2021, the Institute builds on the research and activities conducted by its predecessor, the Center for Household Financial Stability at the Federal Reserve Bank of St. Louis, which underscored how structural and historical factors—including racism and discrimination—contribute to economic inequities.
The Institute seeks to:
Examine how low- to moderate-income (LMI), low wealth or systemically disenfranchised individuals and communities interact with the economy
Identify structural and institutional disparities that suppress the ability of historically marginalized communities to participate in and derive benefit from the economy
Advance evidence-based ideas and policy analysis to foster a more equitable economy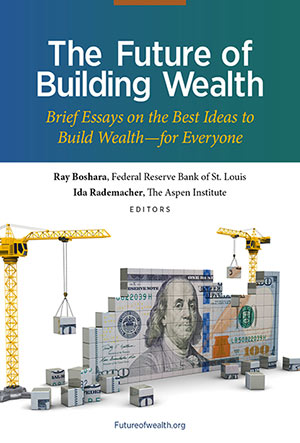 The Institute for Economic Equity and the Aspen Institute's Financial Security Program are pleased to present "The Future of Building Wealth: Brief Essays on the Best Ideas to Build Wealth—For Everyone."
With essays from more than 60 contributing authors, the book highlights some of the nation's boldest, most promising and forward-looking ideas for rebuilding or building family balance sheets—many of which were already weak prior to the COVID-19 pandemic. While the idea of inclusion is central to the book, it also emphasizes policy approaches and other ideas to benefit those with the greatest need:
People of color
Women
Younger and rising generations
People without four-year degrees or those with degrees who are deeply in debt
The book also features a Q&A with St. Louis Fed President Jim Bullard, Minneapolis Fed President Neel Kashkari, Philadelphia Fed President Patrick T. Harker and Atlanta Fed President Raphael Bostic. In it, the leaders discuss a range of issues, including the racial wealth gap, CRA, and financial inclusion.
Overall, "The Future of Building Wealth" is meant not only to bring together fresh thinking for restoring and building family wealth but to spark conversations among those with the resources and platforms to move these ideas forward—policymakers, foundations, employers, nonprofits, media outlets and many others.
If you would like to receive your copy of "The Future of Building Wealth," please submit a request. If you are in academia and need more than one copy for your class, please send a request through email to communitydevelopment@stls.frb.org. If you are interested in other publications from the Institute of Economic Equity, subscribe to:
Our Team
Staff from the Institute publish widely, speak frequently at public events, advise policymakers and others, and take part in interviews. (Contact the media team.)
Research Fellows
Publications
The Real State of Family Wealth
Perspectives from Main Street: The Impact of COVID-19 on Low- to Moderate-Income Communities and the Entities Serving Them
State of Wealth Inequality in the U.S.
Events
Bold Responses to the Racial Wealth Gap
Recent Fed data suggest that Black households have about 12 cents for every $1 held by white households, a modest narrowing since 2016 but essentially unchanged over the last generation. This is despite educational, political, legal and other gains during that time. Further research by the St. Louis Fed shows that most of this wealth gap can be explained by historical and institutional barriers that good financial and educational choices alone are not likely to overcome—suggesting that narrowing the gap may require bolder responses.
Featured Speakers:
William A. Darity Jr. and Kirsten Mullen, authors of "From Here to Equality: Reparations for Black Americans in the Twenty-First Century"
C. Eugene Steuerle, Institute Fellow and Richard B. Fisher Chair, Urban Institute; Cofounder, Urban-Brookings Tax Policy Center
Scott Winship, resident scholar and director of Poverty Studies, American Enterprise Institute
Ray Boshara, senior advisor, Institute for Economic Equity, Federal Reserve Bank of St. Louis (moderator)